73 Saddamists, Al-Queda members arrested over Oct 25 terrorist attack in Baghdad
73 Saddamists, Al-Queda members arrested over Oct 25 terrorist attack in Baghdad
.
... "Why did you choose the justice ministry?" Maliki said, recalling one of the transcripts he had consulted, to which the suspect replied: "Because it has a lot of glass and would maximise the number of victims." ...
AFP, Baghdad, Nobember 10, 2009
Iraq PM says 73 arrests in Oct 25 attacks probe
Iraq has arrested 73 people suspected of playing a direct role in two massive bombs that killed more than 150 people in Baghdad on October 25, Prime Minister Nuri al-Maliki said on Tuesday.
They are suspected of working on the orders of the outlawed Baath party of executed dictator Saddam Hussein, and included members of Al-Qaeda, Maliki told reporters in Baghdad.

He said he had personally scrutinised transcripts of interviews with those arrested in connection with the attacks at the justice ministry and the Baghdad provincial government headquarters, and referred to the questions asked.

"Why did you choose the justice ministry?" Maliki said, recalling one of the transcripts he had consulted, to which the suspect replied: "Because it has a lot of glass and would maximise the number of victims."

"Who ordered you to do this," Maliki continued, saying the suspect answered: "The Baath party," according to the transcript.

The attacks, which also left 500 people wounded, punctured confidence in Iraq's security forces and led to the arrests of more than 60 soldiers and police, including 13 officers, for negligence.

Maliki, whose political strength as premier has been built on security gains and being able to lessen the country's violent death toll, said the October 25 toll included 30 children killed at two nurseries for justice ministry workers.

Colonel Khalil Ibrahim, chief of security for the justice ministry, told AFP in the wake of the attacks that 46 children had been in two ground floor nurseries at the time of the bombings.

(British Lord!! Corbett promoting terrorism under the Logo of MKO for the past 25 years)

(Leader of Washington backed Terrorist with Saddam Hussein)

(Massoud and Maryam Rajavi theMojahedin Khalq cult leaders)
---------
Also read:
http://iran-interlink.org/?mod=view&id=7087
Mojahedin Khalq contact arrested in Kualalampur for bombing Iraqi parliament
(Former MP from Iraq arrested at KLIA)
.
Mohammed al-Daini has been an outspoken advocate for the use of Mojahedin Khalq terrorists in Iraq (Iran-Interlink)
New Straits times, Kualalampur, October 16, 2009
http://www.nst.com.my/Current_News/NST/
articles/20091016162739/Article/index_html
By Alang Bendahara

KUALA LUMPUR: The Immigration Department has confirmed that a wanted Iraqi former MP was detained at the Kuala Lumpur International Airport (KLIA) here last Saturday evening.

(Mohammed al-Daini)
Director-general Datuk Abdul Rahman Othman said Mohammed al-Daini was arrested for using a fake passport.

"The immigration officer at the departure checkpoint stopped him after checks revealed that the passport he had belonged to someone else," Abdul Rahman said when contacted yesterday.

However, it is learnt he entered Malaysia on Oct 8 with a British passport.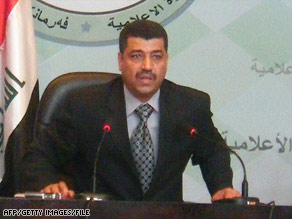 (Mohammed al-Daini)
Mohammed is now under detention at the Immigration depot in Subang, awaiting deportation.

AN AFP report said Mohammed had gone into hiding for eight months after being accused of ordering a 2007 bomb attack in the Iraqi parliament's canteen.

Mohammed had fled to Syria, before he left for Egypt and then Malaysia, according to Modhi Awad, brother of Mohammed Awad, an MP killed in the April 2007 bombing.

The bomb attack killed eight people, including Awad.

On February 25, Iraqi authorities prevented Mohammed from flying to Jordan but he was not arrested as he still had parliamentary immunity. Later that same day, parliament voted to lift his immunity, by which time the MP had fled.

Just days earlier, reporters were shown confessions, which was aired on television, by a nephew and a security guard of the accused MP who said they had carried out several attacks for Mohammed including the parliament bombing.
----------
Also read:
http://www.iran-interlink.org/?mod=view&id=7049
BBC: dismantlement of Saddam's private army against Washington promises to support its Terrorists!!
.
.
BBC, October 08, 2009
http://news.bbc.co.uk/1/hi/world/middle_east/8297457.stm
... If the US allowed this to happen, it would not fit well with Washington's professed support for opposition activists in Iran. The issue is further complicated by the fact that the PMOI is still designated a terrorist organisation in the US ...
---------
Camp Ashraf groups vow to fight on
By Sebastian Usher
BBC News

Supporters of the residents of a camp for Iranian dissidents in Iraq say they will continue their international protests demanding the US and the UN give them protection.

On Wednesday, dozens of supporters around the world ended a 72-day hunger strike after one of their main demands was met - the release of 36 Camp Ashraf inmates detained by the Iraqi authorities for the past two-and-a-half months.

They were seized during a raid on 28 and 29 July.

Video filmed by people in Camp Ashraf appears to show Iraqi police and soldiers shooting and beating camp residents.

Up to 11 inmates are reported to have been killed and hundreds wounded.

Camp Ashraf was handed over to Iraqi government control at the start of 2009 by the Americans. US forces had taken control of the camp after the 2003 invasion of Iraq.

It had long been one of the main bases of the Iranian dissident group, the People's Mujahedin Organisation of Iran (PMOI).

A leftist group, they launched attacks not just on the clerical leaders of Iran but on their predecessor, the Shah.

In the 1980s, they were accused of a bombing campaign against new Islamist leadership - the most devastating in 1981 killing some 70 senior officials, including the Chief Justice Mohammed Beheshti and a number of MPs and members of the cabinet.

The PMOI later set up a camp in Ashraf. The exiles' presence was welcomed by the former president, Saddam Hussein, who was fighting a war against Iran at the time.

He funded and armed the PMOI's military wing, the National Liberation Army of Iran, which fought alongside Iraqi troops.

Health problems

Camp Ashraf is now home to more than 3,000 people. The Americans provided protection for them against outside threats from Iran and Iraq.
After the seizure of the 36 camp residents in July, an international campaign was mounted to to put pressure on Iraq to release them.

Hunger strikes were held in several major cities around the world to publicise the case. In London, 12 relatives and friends of people in the camp kept up their hunger strike outside the US embassy for 72 days.

Now the detainees have been released, they've ended their hunger strike, which consisted of taking only tea and sugar to keep them alive.

Their spokeswoman Laila Jazayeri says they now have serious health problems - and are under observation in hospital.

Ms Jazayeri says their action played a vital role in securing the detainees' freedom.

But she says the protests will continue, to demand that US forces resume control of the camp, that the UN supplies a monitoring team there - and that none of the inmates are sent to Iran.

Repatriation fear

Camp Ashraf presents the US with a difficult dilemma.

Its handover of control in January was part of its phased withdrawal from Iraq.

The Iraqi government gave assurances that the inmates would be treated humanely and not forcibly returned to Iran. The raid in July put this in question.

Camp residents say the Shia-led Iraqi government - which has close political ties with Tehran - is receptive to Iranian pressure to expel them. They fear that if they are repatriated, they could face torture, imprisonment or execution.

If the US allowed this to happen, it would not fit well with Washington's professed support for opposition activists in Iran.

The issue is further complicated by the fact that the PMOI is still designated a terrorist organisation in the US - a label the European Union lifted earlier this year.

But for now at least, the US seems likely to use its influence on the Iraqi government to make sure it keeps its word on Camp Ashraf.

(Camp Ashraf- Iraq)

(Mehdi Abrishamchi and Massoud Rajavi taking orders from Saddam's head of secret services)

(Maryam Rajavi directly ordered the massacre of Kurdish people)

(A cult session in Ashraf Camp Iraq - under the protection of Saddam)

(Chemical attack on Halabche, Kurdistan, Iraq)

(In the streets of London with Lord Corbett!!)

(MKO members in European Countries 2003)
---------
Also read:
http://iran-interlink.org/?mod=view&id=6956
Second Report on Camp Ashraf and Mojahedin-e Khalq in Iraq
.
... The MKO is currently demanding that U.S. Army or the U.N. take control of Camp Ashraf from the GOI. Following publication of the RAND Report it should be the duty of the U.S. Army to help and facilitate in any way possible the immediate closure of Camp Ashraf and the removal of the MKO personnel from Iraq. The more help given by the U.S. to achieve this, the more ...
Reuters, September 22, 2009
http://www.reuters.com/article/pressRelease/idUS123753+22-Sep-2009+PRN20090922
Iran-Interlink.org has published a second report on Camp Ashraf, Iraq and the situation of Mojahedin-e Khalq (aka MKO, MEK) cult members at the camp. After consultation with the Government of Iraq, Massoud Khodabandeh has described events since January 1, 2009.

According to the report, Iraq is determined to rid itself of the foreign terrorist cult led by Massoud and Maryam Rajavi as soon as possible, but is hampered by western intransigence over where these people should go.

The 3416 individuals inside Camp Ashraf have no legal status in Iraq. They are not entitled to 'protected persons' status under the Fourth Geneva Convention. Neither will they be granted political refugee status by Iraq. Nor will Iraq forcibly repatriate them. But, although the MKO has been de-proscribed, at its own behest, as a terrorist group in Europe, no western country is willing to offer asylum to the individuals -- even though 1015 MKO members have a passport or residence permit of a third country.

After months of fruitless negotiations with MKO leaders -- with U.S. observation -- a police post was established inside Camp Ashraf at the end of July. In spite of violent resistance by the MKO which led to 11 deaths, the camp residents are now subject to Iraqi law. Following evidence that MKO leaders were committing widespread and systematic human rights abuses inside the camp, the Iraqi Human Rights Ministry, in conjunction with international humanitarian agencies, is now set to properly monitor activity at the camp.

Massoud Khodabandeh made several recommendations in his report. The Government of Iraq should remove around seventy MKO leaders in order to protect the rank and file members from human rights abuses and coercion. The camp must be thoroughly searched -- something the U.S. Army failed to do since 2003.

Stressing that western governments bear a responsibility toward the MKO's victims trapped inside Camp Ashraf, Mr. Khodabandeh says that western politicians must prevent further political abuse of MKO members by the Rajavi leadership and guarantee the rights of those individuals who renounce violence and are willing to return to society. European governments should work with Iraq and the UN to find third countries to which other individuals in Camp Ashraf can be transferred.
For more information contact: Anne Singleton +44 (0) 113 278 0503
Link to the first report:
http://www.iran-interlink.org/?mod=view&id=4095
------------
full report:
---------
Also read:
http://www.iran-interlink.org/?mod=view&id=6789
New document on Mojahedin Khalq released by RAND
(The Mujahedin-e Khalq in Iraq, A Policy Conundrum)
.
.
.
RAND, August 05, 2009
http://www.rand.org/pubs/monographs/MG871/

(Camp Ashraf)
A new document (133pages) was released today by RAND
About RAND: ... For more than 60 years, the RAND Corporation has pursued its nonprofit mission by conducting research on important and complicated problems. Initially, RAND focused on issues of national security. Eventually, RAND expanded its intellectual reserves ...
* * *
Link to the document (pdf file)
... A RAND study examined the evolution of this controversial decision, which has left the United States open to charges of hypocrisy in the war on terrorism. An examination of MeK activities establishes its cultic practices and its deceptive recruitment and public relations strategies. A series of coalition decisions served to facilitate the MeK leadership's control over its members. The government of Iraq wants to expel the group, but no country other than Iran will accept it. Thus, the RAND study concludes that the best course of action would be ...
-------
Also read:
http://iran-interlink.org/?mod=view&id=6775
U.S. Handling of Mujahedin-E-Khalq Since U.S. Invasion of Iraq Is Examined
(The Mujahedin-e Khalq in Iraq , A Policy Conundrum)
.
.
Jeremiah Goulka, Lydia Hansell, Elizabeth Wilke, Judith Larson, RAND, August 04, 2009
http://www.rand.org/news/press/2009/08/04/?ref=homepage&key=t_iraqi_mek_flags
At the beginning of Operation Iraqi Freedom, Coalition forces classified the Mujahedin-e Khalq, a militant organization from Iran with cult-like elements that advocates the overthrow of Iran's current government, as an enemy force.
The MeK had provided security services to Saddam Hussein from camps established in Iraq during the Iran-Iraq War to fight Iran in collaboration with Saddam's forces and resources. A new study from the RAND Corporation, a nonprofit research organization, looks at how coalition forces handled this group following the invasion.
Although the MeK is a designated Foreign Terrorist Organization by the United States, coalition forces never had a clear mission on how to deal with it.
After a ceasefire was signed between Coalition forces and the MeK, the U.S. Secretary of Defense designated this group's members as civilian "protected persons" rather than combatant prisoners of war under the Geneva Conventions. The coalition's treatment of the MeK leaves it – and the United States in particular – open to charges of hypocrisy, offering security to a terrorist group rather than breaking it up.
Research suggests that most of the MeK rank-and-file are neither terrorists nor freedom fighters, but trapped and brainwashed people who would be willing to return to Iran if they were separated from the MeK leadership. Many members were lured to Iraq from other countries with false promises, only to have their passports confiscated by the MeK leadership, which uses physical abuse, imprisonment, and other methods to keep them from leaving.
Iraq wants to expel the group, but no country other than Iran will accept it. The RAND study suggests the best course of action would have been to repatriate MeK rank-and-file members back to Iran, where they have been granted amnesty since 2003. To date, Iran appears to have upheld its commitment to MeK members in Iran. The study also concludes better guidelines be established for the possible detention of members of designated terrorist organizations.
The study, "The Mujahedin-e Khalq in Iraq: A Policy Conundrum," can be found here.
http://www.rand.org/pubs/monographs/2009/RAND_MG871.pdf
For more information, or to arrange an interview with the authors, contact Lisa Sodders in the RAND Office of Media Relations at (310) 393-0411, ext. 7139, or lsodders@rand.org.
Learn More
iconFull Document (http://www.rand.org/pubs/monographs/MG871/)
iconNational Security Research Area (http://www.rand.org/research_areas/national_security/)
iconE-mail sign up (http://www.rand.org/publications/email.html)
-------
Also read:
http://iran-interlink.org/?mod=view&id=797
No Exit
Human Rights Abuses Inside the Mojahedin Khalq Camps
I. Summary
II. Background
III. Rise of Dissent inside the MKO
IV. Human Rights Abuses in the MKO Camps
V. Testimonies
May 2005
--------
Also read:
http://www.iran-interlink.org/?mod=view&id=6538
Wahsington backed terrorists used to discredit Iranian demands for justice
Fox News Channel: Communist Terrorist Television for Dupes
.
.
Professor Paul Sheldon Foote, USA, June 20, 2009
http://360.yahoo.com/paulsheldonfoote
On October 1, 2007, I posted "Fox News Channel: Communist Terrorist Television for Dupes".
http://blog.360.yahoo.com/blog-iongVI
wherPSJekBajGbbDj1yv4Tfku0?p=193
On June 20, 2009, the Fox News Channel devoted the entire day of live programming to coverage of the unrest in Iran. For supporters of the Iranian communist MEK (MKO, PMOI, NCRI, Rajavi Cult, or Pol Pot of Iran) terrorists, there was no need to watch their Sima Azadi television channel via satellite. Throughout the day, the Fox News Channel provided favorable coverage for the communist terrorists. Some examples were:

During the 11:00 – 11:30 AM (PST) segment, Fox News Channel showed MEK supporters in front of the White House waving their communist flags. The panelists for this segment, Charles Krauthammer and Courtney Kealy, failed to identify or to condemn the supporters of the communist terrorists. These terrorists have murdered American military officers, Rockwell International employees, and large numbers of Iranian and Iraqi civilians. In September 2002, former President George W. Bush's White House published a background paper for Bush's remarks at the United Nations listing the MEK as a pretext for the Iraq War. In 2003, American and coalition forces attacked and killed some of the MEK terrorists at Camp Ashraf, Iraq.

In a later segment, Congressman Darryl Issa (Republican—California) commented that empowerment of people has changed Communist China for the better!

During Shepard Smith's segment, Smith showed a video of the MEK rally in Paris, France and identified them as the PMOI. The only negative reference to the MEK occurred when Amy Kellogg speculated that the MEK might be responsible for a possible suicide bombing at Ayatollah Khomeini's shrine in Tehran. Shepard Smith neither responded nor indicated that PMOI and MEK are two names for the same communist terrorist organization.

During Geraldo Rivera's segment, former Senator Rick Santorum, who was a strong supporter of the MEK in the United States Senate, noted that former Senator (and now Vice President) Biden had originally opposed the Iran Freedom Support Act.

http://www.iran-interlink.org/?mod=view&id=792

Then, Geraldo Rivera showed video of Maryam Rajavi's MEK rally in Paris, France and interviewed Fox News Channel Foreign Affairs Analyst, who headed the NCRI office in Washington, DC until the Federal Government closed the office.

In 2007, Fox News Channel viewers could claim to have been duped by relying upon the Fox News Channel for news. Now, Fox News Channel viewers have no excuses. Those who rely upon the Fox News Channel as a source of accurate news are traitors to all Americans who fought or died fighting communists. Americans do not need to look to Iran or to the Middle East in search for America's worst enemies. America's worst enemies are in America.

(Daniel Zucker, Maryam Rajavi and ALi Safavi)

(Ali Safavi as the commander of Saddam's Private Army in Iraq)

(Maryam Rajavi directly ordered the massacre of Kurdish people)

(Rabbi Daniel Zucker with Maryam Rajavi!)

(massacre of Kurdish people)
----------
Also read:
http://iran-interlink.org/?mod=view&id=6619
On the occasion of American Independence Day
.
.
By Massoud Khodabandeh, July 04, 2009
All kinds of interesting news has been coming out of the USA during the past couple of weeks. Not least the news of large scale organised American support for Mirhossein Mousavi the defeated Iranian presidential candidate. Notably Mr Mousavi served as the Islamic Republic's Prime Minister in the early years of the Islamic Republic when the same Americans were calling him the henchman of Ayatollah Khomeini, etc.
It is widely believed that this support for Mirhosein Mousavi under the banner of a so-called "green revolution" has been part of a failed coup orchestrated by the regime change advocates who intended to bring a puppet Middle Eastern style "President" to rule Iran. If this had happened, President Obama would be able to make his next message to the Moslem World under the new Iranian flag rather than under the Egyptian flag alongside "President" Mobarak. But it did not happen and perhaps it could not happen taking into consideration obvious facts on the ground, which have been ignored by the USA for the last 30 years.
There are, of course, others who simply believe that the hugely expensive and costly support of the US Government for the "green revolution of the people of Iran" is down to the commitment of the US Government to bringing DEMOCRACY and HUMAN RIGHTS (yes I am talking about the US of A) to countries across the globe.
Whichever way you may look at it, I am sure you would agree that the most hilarious, and at the same time, sad position has been that taken by American law makers who advocate support for the same terrorists who have killed American servicemen.
On the occasion of American Independence Day, let us remember the people who lost their lives for their country and wonder at those people who stand today under the same flag only to LOBBY for the murderers of their servicemen.
"… At a Capitol Hill press conference on June 26th, Rep. Bob Filner (D-CA), chairman of the House Veterans' Affairs Committee, declared the U.S. should explicitly side with Iranian "resistance groups", including the MEK, which he described as a "democratic, non-nuclear, secular group fighting for freedom for all the people in Iran." The U.S. State Department notes that the MEK "advocates the violent overthrow of the Iranian regime and was responsible for the assassination of several U.S. military personnel and civilians in the 1970's," and that the group maintains "the capacity and will to commit terrorist acts in Europe, the Middle East, the United States, Canada, and beyond …"
http://iran-interlink.org/?mod=view&id=6613
"
… Lewis Lee Hawkins, the only son of Herman and Mary Webster Hawkins, was born in Chicago, Illinois on 8 August 1930. Herman and Mary would eventually move and raise their family in Plymouth, Indiana… His final assignment came in July 1972 when he was attached to the U.S. Military Assistance Advisory Group to the Imperial Iranian Armed Forces in Tehran, Iran. Annette and Lee joined Lewis in Tehran where they lived in the Abass-Abad neighborhood. On the morning of 2 June 1973, as Lewis was walking from his home to a street corner to be picked up by his driver, two terrorists riding a motorcycle fired at point-blank range and fired two or three shots killing Lewis instantly. Lewis was survived by his wife Annette; three sons, Terry, Ronald, and Lee; his parents, Herman and Mary Hawkins of Rowan, Iowa; and two sisters Mary Duran of Plymouth and Mona Crocker of Belmond, Iowa. His daughter preceded him in death…"
http://www.military-heroes.com/lewis_lee_hawkins.htm
Captain Lewis Lee Hawkins
(Photograph courtesy Annette Hawkins)
.

.
---
Date: 2009-11-10